Advertisers, it's time you get a spine, AND OWN IT!
And before you get mad – I mean an identity spine. Let's ask Aquabot, our resident expert AI chatbot, for a definition:

Hey Aquabot, What is an Identity Spine?
"An identity spine is a durable identifier that persists across devices, channels, and time to represent a single identity. 
It serves as the backbone for an identity graph by linking various identifiers like cookies, device IDs, and login IDs corresponding to the same individual.
The identity spine persists despite changes in technology like cookie deprecation and evolves as new identifiers emerge. It provides the foundation for compliant data use, giving advertisers control over data sharing and usage. For advertisers, a robust identity spine is essential to navigating the changing data landscape and delivering relevant, customized experiences."
Sounds compelling, yes. But enterprise identity spines, owned and operated by the advertiser, still represent the future for most. Today, the status quo in identity management continues to put the power in the hands of multiple third-party providers.
As reliance on third-party data diminishes, advertisers (brands and publishers) will need to rely on their identity spines to manage better customer experience, privacy and compliance, and the total cost of ownership across their data management practice. As advertisers (the 1st party in a consumer data relationship) leverage more of their own data, combined with 3rd party data, it presents an opportunity to take control of identity and manage their own spine. The benefits that accrue to advertisers who create and own their own persistent ID, organizing all of their data, technology, and service partners, will be game-changing for the efficiency and effectiveness of their MADtech efforts.
Some perspective for you: I'm seeing that advertisers making this a strategic initiative, led from the top, are having faster and more measurable success than those trying to solve this at lower levels in the organization. Done right, the business value benefits the entire organization.
How the Market Thinks About Identity Spines
When the term "Identity Spine" is used, most people across the industry immediately think of examples such as LiveRamp, Epsilon, or the credit bureaus. However, it is important to also realize that in today's world, Adobe, Google, Transunion, and others still operate a third-party stitching framework – even if they portend to offer some first-party capabilities. 
It's also important to recognize that UID, the RampID, CoreID, and the other "universal identifiers" do actually help to fill a void in the marketplace, whereas an Adobe identifier for instance is actually a one-trick pony.
The Problem with Relying on Third-Party Identity Graphs
Over the last few years, with the impending and often delayed "death of the 3rd party cookie," industry news has been flooded with announcements of cookieless solutions (a.k.a. new third-party data products). This has caused many advertisers to believe they must pick one of these "Third-Party IDs" to operate their future-ready digital advertising ecosystem. However, we know that most digital advertisers use multiple third-party data sources for crosswalking identity, onboarding, and enrichment. So, how do you pick just one? And what about the heavy lift placed on an advertiser to organize and process all that data?
The trouble is not simply that third-party data isn't persistent in the advertiser's ecosystem: it's often incorrect. A recent study by Truthset, spanning 15 data brokers, finds that the email and postal address matches that underpin ad targeting and audience measurement are only right 51% of the time.
Without a brand-owned identity spine, data – from first-party, interaction, prospect, and more – must be sent out to third-party identity spines to be matched, introducing needless time and waste into the equation. The alternative here is an enterprise spine, bringing data and applications to the data, enabling the advertiser to regain control of their data.
The Coming Paradigm Shift: Move Identity from Supplier to Advertiser
By establishing an advertiser-owned spine, the power shifts from supplier to advertiser. The strength of the spine is an advertiser-driven persistent ID, which becomes the connective tissue across every component of the advertiser's MADtech central nervous system. These components become the vertebrae which makes the spine actionable:
First-party tools and points of consumer interaction around purchases and customer experience.

Third-party data suppliers (yes, there is still an important place for them here)

Adtech partners for activating and returning valuable exhaust data as consumers interact with media

Martech applications leveraged by the advertiser that focus on content, messaging, analytics, orchestration, and other point solutions like CDPs.
Looking at each of these components as vertebrae to the spine (aka the persistent ID), the advertiser gains more optionality in their choice of suppliers; they can now employ a low friction process of unplugging one vertebra to replace it with a new one. The dependency on a supplier-based ID system is now sharply reduced.
When advertisers get a spine, they don't just control their own data; they also have the power to bring the third-party ecosystem to them instead of pushing their data out to the ecosystem.
Additionally, the spine facilitates interoperability across sources and applications. Data flows seamlessly across the spine from one vertebra to the next, each benefitting from the value of the other. This move to owned identity helps to run their overall business, not just their MADtech stack. This persistent ID they've created can now become the needed link to the System of Record and Master Data Management solutions the advertiser utilizes to run their business. The possibilities are exciting.
First Party Data Alone Won't Get the Job Done
We're not done with third-party data, not by a long shot. Quality third-party data is needed to add context to understanding consumer intent and improving segmentation and audience development. It delivers the necessary identifiers to connect to the ad tech ecosystem, facilitates the activation and closed-loop resolution for measurement, and links back valuable exhaust data from campaign execution. All are enabled through each vertebra connected to the spine.
From a marketing perspective, the enterprise identity spine accelerates real-time or near real-time graphing and data activation with great efficiency. With all applications working off the same central enterprise data source, the seamless resolution needed to deliver exceptional customer experience is now activated.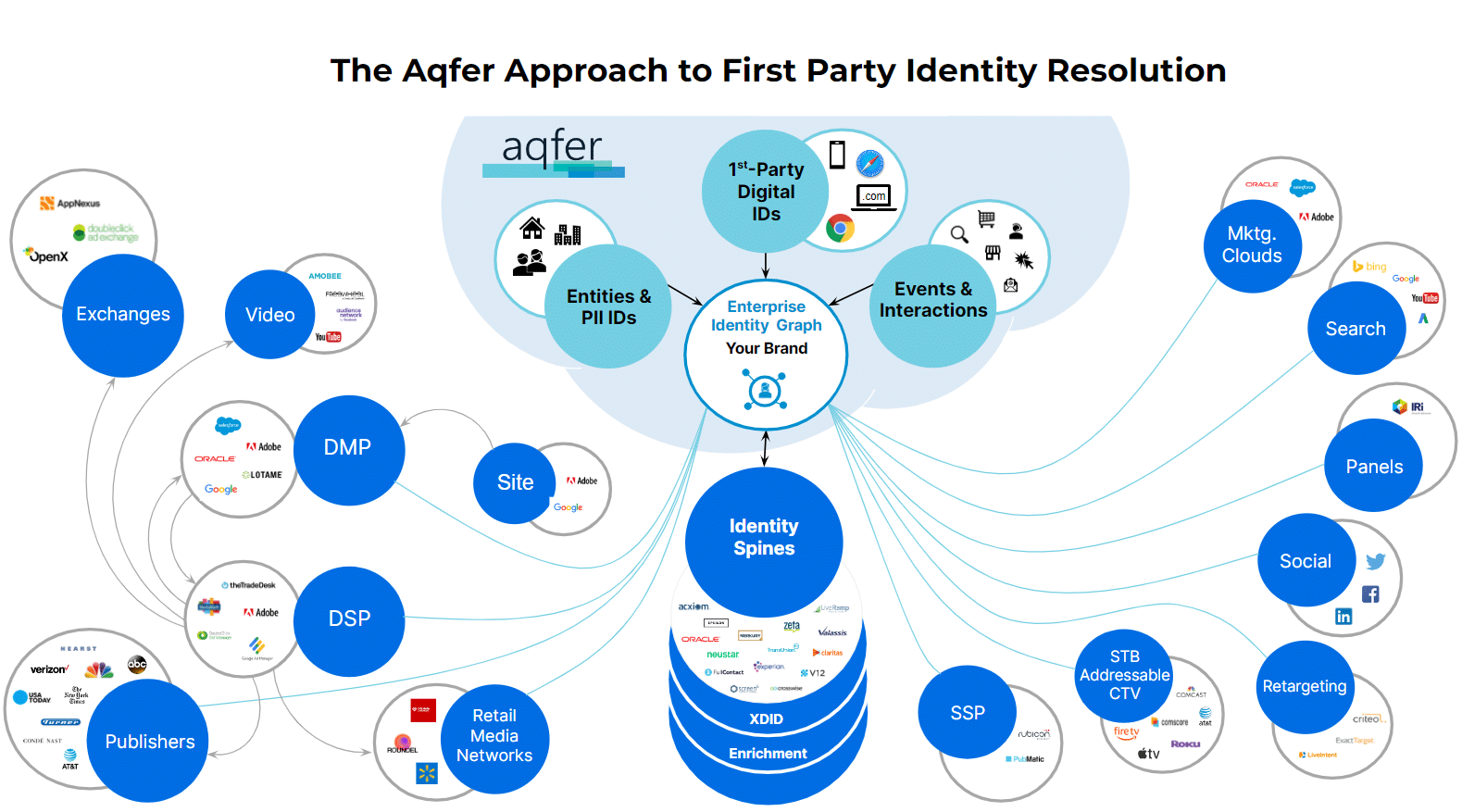 Talk to the Experts in Developing Brand-Owned Identity Spines
Ready to get a spine? Reach out. This future-ready approach enables brands and publishers to take back their data, and Aqfer has the technology available to make this paradigm a reality.
Aqfer's identity resolution solution enables our Marketing Service Provider customers to deliver enterprise identity graphs leveraging a brand's data, third-party data sources, and applications, all in their virtual private cloud.
Click here to learn more about the Aqfer approach to identity resolution.
For one on one information, contact us to schedule an appointment with our team of identity experts who can help you (and your clients) take back their data.
It was becoming harder and harder for us to persist our users' identities using client-side cookies. We worked closely with the Aqfer team to tag our sites with a first-party server-side tag that allowed the user's identity to persist in the browser. Then, we worked closely with the Aqfer team to build the identity graph, which helps us see users across devices and platforms to understand their behavior and leverage it for advertising.