Aqfer's data-centric marketing solution draws analytical truth from vast reservoirs of raw data, then helps package it for custom marketing and advertising. Our first-party tag solution features best-of-breed, open-stack technologies that can quickly be adapted to changes in the marketing and advertising ecosystem.

Data Integration
Ingest your data from your vendors API's and bring your log-level, detailed data into a lakehouse managed in your own virtual private cloud.

Distribution
Get it out there. Aqfer's distribution services deliver your targeting data to media activation and data licensing partners.

Data Analytics
Develop true insights: Aqfer's service for big data analytics offers sub-second response times for OLAP analysis—but still allows drill-through for complex queries and discovery.
The Detailed Data Difference
Detailed log-level data lets your business perform high-level analysis independent from processing rules applied by third-party vendors.
Frequency
Accurate analysis of Frequency and Unique Users is made possible using detailed log-level data contained within your lakehouse.
Audience
Audience analysis, device matching to household or office, is made possible using detailed data aqfer marketing data lakes are designed to support.
Attribution
Attribution reporting is made possible by working with detailed log-level data which your business can access using your lakehouse and custom data marts.
Verification
Allows verification through comparison of detailed data across vendors using your lakehouse and custom data marts.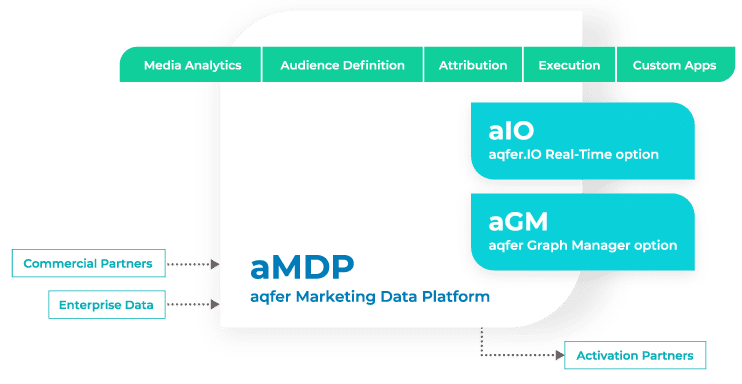 Uniquely Designed
For Marketing and
Advertising Data
The Aqfer lakehouse is configured to provide your business with the same enterprise-level capacity necessary to host the high volume, log level, detailed data sets Ad Tech Vendors use to actually build reports other CDPs simply gather from Interfaces and APIs.
Most companies self-identifying as CDPs don't provide detailed data. They collect data that's been pre-processed by vendor reporting systems. Then they either store it or simply move it from one partner to another.
Marketing Data Platform Process
Flow & Services